The coronavirus pandemic has Kentucky's secretary of state thinking about mail-in voting
Kentucky Secretary of State Michael Adams knew by Monday morning what had to be done to address concerns about the upcoming election.
As other states announced they were pushing their presidential primaries back in response to COVID-19, the Republican official began polling election officials.
Adams spoke with his staff, the State Board of Elections and county clerks over the weekend. He admits they weren't all in favor of moving the Bluegrass State's primary from May 19 to June 23, but all understood the need.
"To give you a sense of how fast this moved, I was on KET on March 9 for an hour and there wasn't a single question of me about the coronavirus," Adams said. "Then a week later, here I am issuing a recommendation to the governor to delay the primary. That's how quickly things have been moving — Lord knows what we'll see a week from now."
The hope is postponing the primary election will allow Kentuckians to have a normal election, but even that is questionable as our lives are being dramatically changed by this disease.
Adams, a conservative election lawyer, readily admits how COVID-19 is going to force him and others to rethink their beliefs. One idea that his office is researching now is allowing Kentuckians to mail-in their ballots instead of having to show up to the polls.
Kentucky coronavirus live updates:Get all the latest information here
Coronavirus tracker:How many coronavirus cases are in Kentucky? Where are they?
"I ran during the campaign opposed to a vote-by-mail system, but I'm a realist," Adams told On Politics. "The most important thing for me is ensuring we have a free and fair election."
Voting is a communal activity that, at this moment in our history, is a flagrant violation of new federal health guidelines against gathering in groups.
Think about the long lines at polling places or how thousands step into the same voting booths or the poll workers, who are often older folks, flipping through address books.
Those who favor mail-in voting argue the coronavirus pandemic presents a wake-up call for Kentucky to join 34 states, and D.C., that currently allow voters to cast an absentee ballot for any reason.
"Let me be clear: to protect Kentucky's primary election, which is now scheduled for June 23, the state must move to universal vote by mail, or at least no excuse absentee balloting," University of Kentucky law professor Josh Douglas, who worked on Adams's transition team, said in March 17 tweet.
Democratic National Committee Chairman Tom Perez also has chimed in by urging states to embrace ways to make it easier and safer to vote. 
But before you claim this is a liberal plot to take advantage of a pandemic, look at Maryland Gov. Larry Hogan, a Republican, who said the special election to fill the seat of the late Rep. Elijah Cummings ought to be a mail-in-only election.
"I am comfortable with looking at it, and we are looking at it," said Adams, the Kentucky secretary of state.
Kentucky legislature:Bill to cut corporate middlemen out of Medicaid drug claims goes to Beshear
This is a significant admission by Adams, who in Frankfort circles — along with Attorney General Daniel Cameron — is considered an acolyte of Senate Majority Leader Mitch McConnell.
Adams, for instance, was greatly opposed by Democrats who said his push for a new voter ID law in the state was a way to help McConnell's reelection.
What worries Adams about converting Kentucky to a mail-in election state are a few things. Chiefly, he wonders, will the post offices be open? He frets about the virus contaminating envelopes and warns that could delay results by up to three days.
Adams also mentioned how the state vendors who printed ballots haven't confirmed if they can take on the increased workload of printing.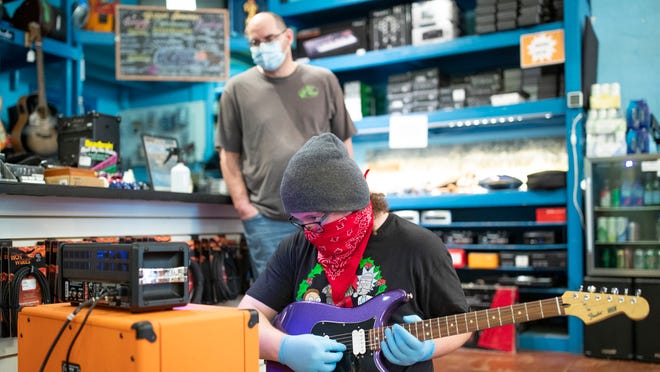 "My hope is that will all settle out and we'll have this as an option," he said. "It would certainly be a last resort from my perspective that would be very expensive and somewhat risky."
Such a move would require changing state law or regulations around voting, he thinks. That's because there is a provision under Kentucky's emergency contingency rules that plainly says how voting on a "rescheduled election day shall be accomplished by physically appearing at the voting place."
Democratic Gov. Andy Beshear told reporters at one of his coronavirus press conferences how he wasn't sure if mail-in voting can be instituted by the time of the delayed June primary election, The Courier Journal's Joe Sonka reported.
The governor also was not sure if it required a change in state law.
Read this:Kentucky's economic catastrophe mounts with each passing hour amid coronavirus pandemic
Douglas, the UK law professor, said the State Board of Elections has authority to promulgate rules for an election that has been delayed because of an emergency.
"I think requiring all-mail voting would fall under the state board's authority in this context," he said in a March 17 tweet.
Adams said his office is encouraging a change to the emergency rules, and has alerted the governor's legal team about his concerns, as well as the State Board of Elections chair.
What really worries Adams, and probably other secretaries of state across the country, is if the coronavirus crisis stretches into the fall.
Political parties decide how states pick a presidential nominee in the primary, and those dates are largely left up to the states.
Own a small business in Kentucky?:Here's how to get federal aid amid coronavirus shutdowns
That is not the case for the November general election, which would require Congress to change federal law to postpone. Historians will point out how the U.S. had elections in other major crises, such as during the Civil War and World War II, but a pandemic is different.
I asked Adams if he regrets running and pulling off arguably the greatest upset in a Kentucky election when the wonky conservative beat former Miss America Heather French Henry, a Democrat, last November.
"Someone the other day told me they were glad they voted for me," Adams joked. "I said, 'I wish I voted for Heather.'"
Reach Phillip M. Bailey at pbailey@courier-journal.com or 502-582-4475. Follow him on Twitter at @phillipmbailey.