'I don't know of any other ways to lose:' Why do Bills fans put up with the heartache?
Bob Chavez, Gary Craig
Rochester Democrat and Chronicle
There are NFL fans who can rank their team's championships from least to most memorable.
But Buffalo Bills fans?
They have no NFL championships to remember and instead are left ranking the losses that aren't just losses. They're losses that crush the soul.
There's Wide Right in the 1991 Super Bowl, a loss so memorable it even has its own Wikipedia page. 
The Music City Miracle in 2000 was a stunner against the Tennessee Titans and it brought scientists into the discussion after they broke out protractors and physics equations to determine if it was a forward pass or lateral on the winning play for the Titans.
And now, the Crusher in Kansas City.
It was just another heartbreak for Bills fans.
"I honestly believe we have lost every way we can possibly lose," said Chris Birch, 52, of Canandaigua and a Bills fan since fourth grade. "I don't know of any other ways to lose unless they change the rules and we lose by the new rules."
"It's weird," said Birch. "It's almost like I've come to expect something bad is going to happen. I wasn't even (angry). I was more in awe, like, not again!"
Wide Right. Music City Miracle.:Will there be nickname for this gut-wrenching Bills loss?
Bills report card:Josh Allen's legendary effort wasted by defensive debacle against Chiefs
Instant reactions:Bills suffer one of most gut-wrenching losses in history in OT to Chiefs
Birch said he's a regular listener to sports talk radio the day after a game to hear opinions and analysis from the game. But not after this one.
"I've avoided the radio all day today," he said. "I don't want to hear it."
Jim Richardson, now 60, began attending Bills' games more than 40 years ago, and sees the team as an extension of Buffalo and the region. He, too, was devastated with the loss.
"I just think Buffalo and the whole area consider themselves underdogs, and are constantly picked on for the four Super Bowl losses and by the national media," said Richardson, a postal carrier who lives in Henrietta. "We just take pride. It's like a blue-collar work ethic and Josh Allen, the way he plays, it's perfect for Buffalo.
Richardson is now undergoing chemotherapy for colon cancer, and the Bills provided him and his family with a pastime to focus on.
"It was a positive distraction," he said. "It was something else I could focus on. I'll get over this in a few months and soldier on."
Richardson's neighbors found ways to support him during treatment, recognizing his love of the Bills. Neighbors and families on his postal route placed Bills signs in their yards for him.
"My entire neighborhood put up "Billieve" signs to support my cancer journey, even if they weren't Bills fans," he said. "That was classic Bills fan stuff."
Mike Foster, the retired coach who led Canandaigua Academy to a state football championship, has been a Bills fans since living in Olean before taking the Canandaigua job in 1979. He was at Sunday's game as a guest of Ryan Poles, a former Canandaigua player who is Executive Director of Player Personnel with the Chiefs.
"We were thinking about heading to Buffalo next week and suddenly, it all turned. It was a very deflating loss, the kind of loss that can linger," said Foster. "This will be added to the litany of disappointments for Buffalo."
The highs and lows of 13 seconds
Local lawyer Heidi LaDuca's household likely was typical of many with the emotional roller coaster on Sunday. A video she posted on Facebook showed the family's eruption when Josh Allen threw the go-ahead touchdown pass with only 13 seconds left in the game – a pass most Bills' fans believed was the likely end of scoring.
Moments later, all went silent as the Chiefs scored, then won in overtime.
"It was crazy," she said. "Then it was devastating to be so close and so deserving."
Her husband, lawyer Tony LaDuca, has been a lifelong fan and is now a season-ticket holder. He quietly went to bed, his voice shot, after the loss.
Why do Buffalo Bills fans stick with it through the heartache?
Heidi LaDuca said she has only become more of a fan in recent years, and there is a special bond with the Bills followers. 
"It is interesting to me, especially really having not been a sports fan, to being drawn in," she said. "I think there's this bonding that you build between your friends and your family who love the team. And then you get to start to know the players, the key players especially, and you feel like they're almost an extension of your family.
"You feel so drawn in and you feel so invested," she said.
She and her husband often watched games during the pandemic with a family in their same "COVID bubble," she said. "These were people we would see and feel comfortable with," she said.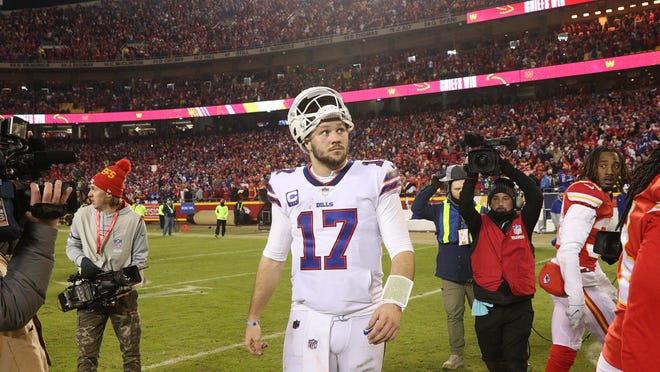 Annette Jiménez Gleason, a program officer with the Rochester Area Community Foundation, also did not fully embrace the Bills until the pandemic, even though her husband, Harry Gleason, has been a longtime fan.
"It really feels like a hometown team," she said. "There's such a camaraderie. I'll go out with Harry and he'll have his Bills hat on and people will say, 'Go Bills,' and I'll answer, 'Go Bills,' then think, 'Who am I?' "
'It kind of stinks':Chiefs, Bills shrug off controversy over NFL overtime rules
'I am having a nervous breakdown.':Twitter reacts to Bills heartbreaking loss to Chiefs
Though a relative newcomer to the fan ranks, Jiménez Gleason said she also was momentarily thrilled, then shell-shocked Sunday. She and her husband were ecstatically jumping around after the Bills seemed to have a win in hand, then that all changed.
"It was soul-crushing," said Jiménez Gleason, who wielded a nickname for one of her favorite players. "When (Allen) made that throw to the 'Angel Gabriel' Davis, we were running around the room and so excited. And then I said, wait a minute, it's not over."
After the loss, she said she feels worse for the fans who have endured other similar painful endings. At the Chiefs winning score, "That's when I said, I don't like being a sports fan any more."
The beauty and pain of obsessive fandom
While some may find excessive sports fandom to be an unusual mindset, it is not actually surprising, said Eric Simons, the author of "The Secret Lives of Sports Fans: The Science of Sports Obsession."
Sports fans who, figuratively, live and die based on their teams' performances are often driven by both psychological and cultural factors, sometimes seeking a communal bond or hoping to display a pride in their region or homeplace, he said. That's why fans often stay loyal to the team, regardless where they may move to or how many players come and go.
"The players, in an odd way, are a little bit more mercenary," said Simons, who lives in San Francisco and knows suffering as a fan of the San Jose Sharks hockey team. "The fans have this connection because they are connected with the city."
Rust Belt regions – Buffalo, Cleveland, Pittsburgh, for instance – often have deeper ties with their teams than many other areas. Those franchises have been there through economic upheavals and rebounds, and allow residents a constant focus.
"When there's a sort of regional pride and regional identity, people feel both proud of where they're from and where they are and they want to see that pride extended onto a national stage," Simons said.
"… It doesn't apply as much to New York City or Los Angeles. There's a lot of different ways to invest your identity there."
Mason Storm, 21, of South Bristol, grew up a fan of the Bills and didn't see a playoff team until he was a senior at Honeoye High. So he doesn't remember the four consecutive Super Bowls or even the Music City Miracle, but he said fans his age seem to have inherited the misery of being a Bills fan.
"Every year, you drink the Kool-Aid," he said. "They'll be up by 20 points in a game and my first thought is, how are we going to blow this one?"
As disappointing as Sunday's loss is, he's sticking with the team.
"They're trying to change the culture," he said. "No one really take the Bills seriously. When I was growing up, they were a sub-par team and a laughingstock. Now they're better but we still having nothing to show for it. No hardware."
Fans often find "anchor points" with their teams, Simons said.
"Everyone needs something sort of connecting them," he said. "Your profession, religion, your family, but sports also offers that."
And, the extreme disappointment of Bills' fans is not a sign of some psychological weakness, but instead is to be expected and embraced – as is the hope for a different outcome in the future.
"I always tell people that everything I've learned about how your brain works and how your personality works makes it very forgivable to feel disappointed, to feel upset about sports. It's nothing to be ashamed of. Like everything disappointing, you get over it."
As a football fan without any allegiance with the Bills-Chiefs outcome, Simons had this perspective.
"To me it looks like you lost an amazing game."